Themes and Swap Traps [Alpha 19]
---
This update adds themes, a graphics upgrade, and a new piece: The swap trap.
In Settings there is now an option to cycle through a few colour themes. There's only 5 for now. If you'd like to suggest a new one then take the image attached to this post, recolour it and send it back to me here or on twitter: @st33d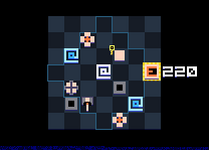 I've long considered having a tinted drop shadow on all of the pieces so that they look chunky. This would allow me to offset the sprites for passives - making wall-pieces taller and easier to distinguish. It would have been a lot of work to double up the sprites, but thankfully a double pass shader does the job with minimum fuss.
Finally there is yet another new piece. The swap trap is like a trap, but it performs a swap instead of an attack. This sets up a variety of traversal situations that weren't possible before.
I have another piece planned but it will take a fair amount of testing. It's based on the phoenix block that was in Star Shaped Bagel. It would respawn a player when attached to their ship. Adding something like this to Unending allows for interesting sacrifices and novel teleports.