This update adds the Player Turner - the player can now behave like a Turner. There are some interesting advantages and disadvantages to this form.
Currently there are no modes of play that start you with a Player Turner. You have to open up the level editor and select one to change the default player. However the following image contains a Player Turner puzzle: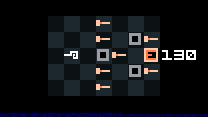 Download it and press the "I" key during the game to load the level image.
I intend to create some more puzzles in the meantime so I can decide what sort of dungeon would suit this form.