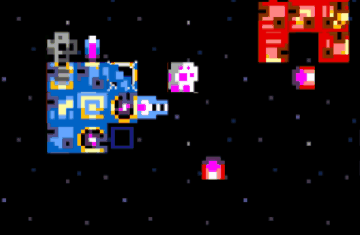 This update adds the new wormer and chaos blocks.
The wormer fires out a homing bullet, keep firing and the bullet grows into a worm of bullets. It's a bit silly really, but it's building on the nano-fac to create more blocks that can grow structures - perhaps even a warp gate.
The chaos block randomly chooses from a list of offensive blocks. It's mostly blocks you trust to cause some damage, but I've thrown in a few of jokes as well to catch you out.
Also:
New enemy elite ships. Some held together by tractor beams to offer new challenges.
Animation code rewritten. Unity's default system doesn't scale, the new system should make the browser version a little more responsive.
Holo block removed from browser demo. It looks like the shader or masks it uses are too much for some browsers. Holo block will return in the desktop version in remote areas where it can cause a surprise.
Slo-mo added to phoenix block activation. Should help players figure out what just happened.
My next focus should be biomes. Currently the game just escalates. This creates high density areas with no character. It would be better to know that to the south the enemies have utility blocks, whereas the north have mostly ranged weapons. Patches of space that are full of worms and nanites, or caches of fuel and a friendly space station that offers repairs and gauss.