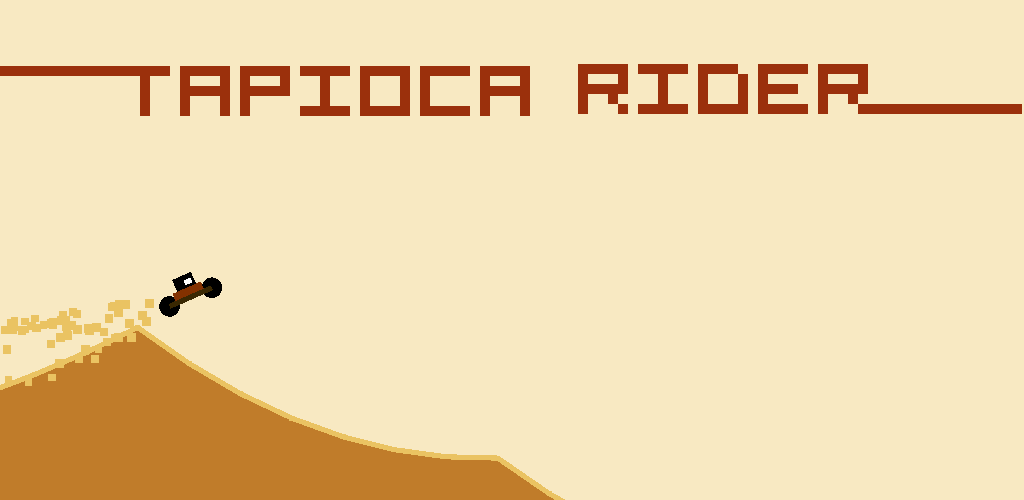 Tapioca Rider
A downloadable game for Windows, macOS, and Android
Tapioca Rider is a 2D dessert driving game.
Jump, accelerate, and occasionally reverse through 78 tracks of procedural love and hate. Complete them without crashing or landing upside-down to attain the purpose of all gaming: a score.*
Then drive through another 9921 tracks if for some reason that wasn't enough.
Be you a Tapioca Rider?
* ᴾᵘʳᵖᵒˢᵉ ᵒᶠ ᵍᵃᵐᶦⁿᵍ ᵐᵃʸ ⁿᵒᵗ ᵃᶜᵗᵘᵃˡˡʸ ᵇᵉ ᵗᵒ ᵍᵉᵗ ᵃ ˢᶜᵒʳᵉ ᶦⁿ ᶜᵉʳᵗᵃᶦⁿ ᵗᵉʳʳᶦᵗᵒʳᶦᵉˢ ᴾˡᵉᵃˢᵉ ᶜᵒⁿˢᵘˡᵗ ʸᵒᵘʳ ˡᵒᶜᵃˡ ᵍᵃᵐᶦⁿᵍ ᵒᵖᶦⁿᶦᵒⁿ ᵗʳᵘᵐᵖᵉᵗ ᶠᵒʳ ᶠᵘʳᵗʰᵉʳ ᵃᵈᵛᶦᶜᵉ
Purchase
In order to download this game you must purchase it at or above the minimum price of $1 USD. You will get access to the following files:
Also available on