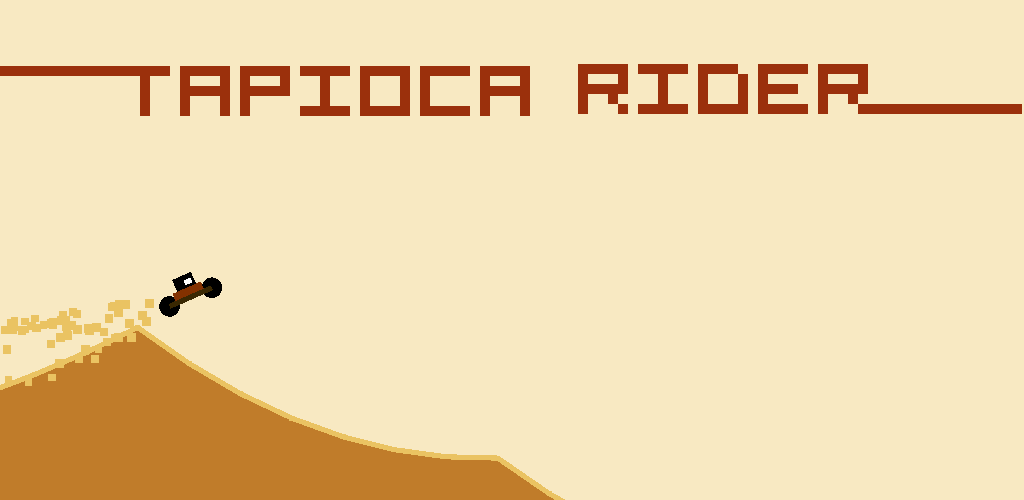 Tapioca Rider
Tapioca Rider is now available for general consumption.
It's a simple game, one that's resisted adding many mechanics. Its precursor is a game I did for Nitrome called Off the Rails. It has a lot of gimmicks and as this Let's Play shows, it forced a very cautious play style. The engine has a lot of complications like sliding down steep inclines to support the railroad narrative and a smorgasbord of things to crash into.
Tapioca Rider on the other hand I built from scratch using some of the same physics principles, but with simplicity in mind. What was fun in Off the Rails was going really fast off of ramps and somehow managing to survive - so I tuned TR just for that. The procedurally generated levels are a part of that, you shouldn't be hoping I'll be there to catch you. Tapioca Rider thinks nothing of putting a dick-move-rock in front of the finishing line. But skillfully hopping over that rock after hitting a turbo feels pretty good.

Sorry it's a couple of bucks to try, I really don't want to maintain another app with ads in again. It takes away time from making more apps. If you've reviewed my work before or you were in the beta and want the latest version - hit me up on Twitter and I'll sort you out.